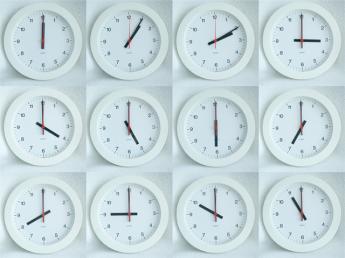 It is but the MICRO SECOND it takes to START Thinking!
It TAKES Time TO Think.  It TAKES Time TO Speak your Thoughts.  It TAKES Time to PRODUCE your thoughts.  BUT: ALL THAT begins at the BEGINNING…TO START THINKING!
Therefore THAT is the ONLY TIME "time".
Every thing else is simply a PAST or a "AHEAD" thing.
What about Spring Time?  Summer Time?  Winter Time?  Fall Time?
THAT, friends, are what MAN has labeled them….NOT the CREATOR.  To "HIM" those are SEASONS, not TIME.  Aho?
So, EXCEPT for the MICRO SECOND to BEGIN a THOUGHT….TIME DOES NOT EXIST!
With that in mind, we (YOU / I / All)…CAN go INTO THE PAST and INTO THE FUTURE…quite easily too.
But after 3 Days into the "future"…you WILL NOT BE ABLE TO TELL WHAT PARALLEL "Time" YOU ARE "SEEING"!
The BEST Bet on seeing AHEAD is the ONE DAY called TOMORROW.  Even THEN it will NOT BE TOTALLY CORRECT!  Slight DIFFERENCE Do and Can occur.  Day #2 EVEN MORE "Less Guaranteed"…#3…YOU ARE "PRESSING IT".   Beyond?  SURE, it IS, but In OUR Parallel Time????
Both comments and pings are currently closed.