Filed Under :
Creator
,
e-mail
,
Medicine Man
,
prophecy
,
Red Elk Speaks
,
Spiritual Matters
,
Tellings
by Living Documents

May.19,2010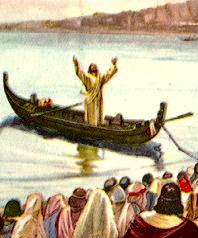 An e-mail to Red Elk:
We do have to get out of the boat. 🙂
I have a question for you. I have studied the Tsalagi teachings and they say the Pale One came 2,860 years ago "The Keeper of Mysteries", then the Peacekeeper came around 1500 AD.
I know the Pale One put together the 6 Nation Confederacy and worked with Hiawatha.
What do your teachings say about the time line of Christs walk and how it relates to these others?
AMR
JB
Red Elk Responds:
OK, for SURE He came to the AmericaS  (S and N).  He came on an uncles "freighter".  Then spent 3 1/2 years here.  Came to LEARN what WE knew, and share what HE had learned (from other travels). Adding ALL the GODNESS Knowledge Each Country still retained.  At "our" time, He became the Indian (S n N) and Eskimos…(BOTH sides of the continent)  "PEACE BRINGER".  MUCH LOVED BY ALL!  In this He brought Peace to ALL, in ALL the AmericaS.  Till no more did we battle one-another.  When He left He said He'd return.  After just over 200 years we sorta "gave up" and in time returned to our PRE-walk.
He was trained in the Essenes…traveled to India/Tibet and other areas…all in Thirst of what He could learn of His PEOPLES' (Hebrew Culture)…(and therefore too, "His")Â  "God" "father",
It IS possible He HAD "come before".  Our learning doesn't include that knowledge.
Best I can do.  Aho?   re
I have PHOTOS I took Of HIS FOOTPRINTS….7 spots in Canada.  BURNED INTO STONE and BURNED INTO RAW EARTH!  re
Both comments and pings are currently closed.