Filed Under :
dome home
,
Gnome Home
,
Hobbit Hut
,
Red Elk Speaks
,
Skydome
,
survival skills
,
Tellings
by Living Documents

Aug.18,2012
I too lack construction knowledge but NOT common Sense.
I've three MINNY domes here, and still the still incomplete BIG one on our other property. That is 30 diameter INSIDE x 19 1/2 High.
It's a combo of Eskimo Igloo (long entryway overhang) / ONION shaped (but "cut" on the FLAT base (near center). A Loft with Bed Room there AND below it.
"2 bedrooms" this way. A flat topped Wood stove for heat and cooking In the CENTER. Seating with Storage around all but Bedroom and Doorway.
One BIG off-shaped (gnome) widow and on 1/2 the BIG doorway (again; Gnome odd-ball shape).
As you enter the Half Door you can turn left (via the OPEN half of full door…this to the Bathroom…n to the kitchen Proper". It has a storage shelf across the upper back.
THIS part is a long DOG PEN RUN. Cyclone pen…6 ft tall. Exit door (#2) at far end.
Cooking area at front side.
U can cook there or at dome center one.
All-in-All, the whole has Space Galore. Other the the dome sections roundness being broken up by the small bed.rm. All else there wide open (less stove). Guests can sleep on the storage seats or floor. 5? 6-7?.
I used cut cedar to pound into the soil. Then put PVC PIPES onto each, as the Studs. 2 inches
Built like a Sweat Lodge (Plains style). 3 pvc piping incinerated these up-rights (which are gathered towards wards the top).
"Tied" together at the studs via Zip Locks and brass wires.
I held the framing up with a nailed together 2×4 with "cross" board near the top.
Then rolled on CHICKEN WIRE over the whole DOME part and locked this onto all the framing.
Once that was done I then kicked loose the 2×4 "holder".
As expected (and HOPED) the whole dome SHRANK DOWNWARD n EXPANDED OUTWARD. Tightening the whole into a STRONG Structure! The dome measurements were AFTER this support "kick". Aho? (The BASE Diameter remained the same). Thus it has an "onion-like"shape (but NOT severe). Rather attractive, to be honest.
The dog pen was a 'kick' to do. 10×20. Done in about an hour by my (then) 14 year old grandson and myself. Once the fencing was all connected we simply took at end each, picked it up and placed it where we wanted it. With a slight "bend "between and side and backside of the dome. This left a "gap". More pvc framing and wire filling that gap and allowing plenty of room for toilet / sink / TUB and a bit of cabinet space.
Not crowded, but still on the small side. Aho?
We are looking toward a cement mixed with dirt flooring. Flat stones set in as part. White Sand to fill gaps and keep all "airy" and Light. IE; White sand Grouting. Aho ?
By the way, I may raise the LOFT Ladder to give more main floor room.. Swing up via a pulley and line.
The Dog Pen section will have a SHED Roof…PLANTED with grass and flowers (Alaska Trapperson Style Cabin). Bending and BLENDING a Square to a Round (dome) side. Thus not look 'out-of-place' at all. Aho?
At this time…less Cat Work, I've less then $1300.00 into this…INCLUDING A GIANT HEAVY WHITE TARP that will cover all. VINYL.
Will then be a Fancy TENT till we can get proper material together to "permanent" it all. Also have rolls of thick insulation to put on before the tarp.
With the stove we have all should be comfortable during are extreme winters there. (12 to 14 foot snowfalls).
"CAT work" included a deep cut-in to hill side. This to cover with dirt. Only the Dog Pen will show its 'shape'…and remember That TOO will have a Dirt Roof…planted. Aho?
I'm one who likes to bring the OUTSIDE…IN.
Keeping all GNOME Simple.
Go to "SHOESTRING CABIN" and see my 3 minny domes. This will give you an idea of what I mean. Its a HUB, by "Ghost".
Scroll down a bit to see ours.
Also look up "THE GNOME HOME IN WALES".
This gave my wife the 'push' I needed to do the big one.
So, basically, by more salvage and thinking Out-Side-The-Box, our MOVE TO Dome shouldn't cost us more then 5 to 6,000.00.
It's a long way from complete. So far from our house here the gas is prohibitive. Went up twice to work on it. Planned a 1 wk per 'doing'. LIGHTNING STORMS EACH WEEK…Day AND Night. Had to call it a useless trip and come home.
Basically most was me doing. 3 times my grandson came and helped. Once 3 others as well.
Its set there, framed and cover ready, for 4 + yrs now. Standing firm and ready throughout the winters/ Etc. To date, I'm quit pleased. Aho?
Good Luck.
In HIM…re
First Gnome Home Pictures
Cost $350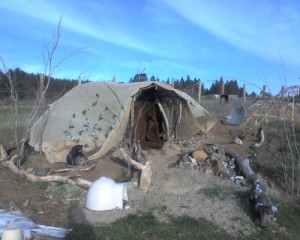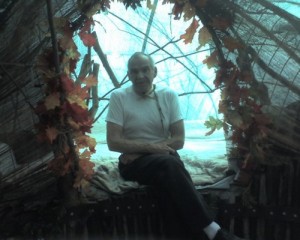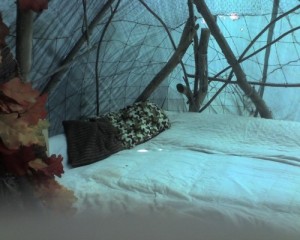 Both comments and pings are currently closed.