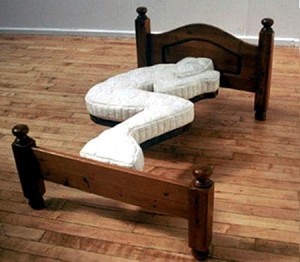 "I CAN'T SLEEP!"
This from one in a phone conversation today.
Got me to thinking…HAVE HEARD THIS MANY MANY TIMES over the years.
ALL from ones SEARCHING To LEARN! "Connector" seekers. Aho?
EVERY SINGLE ONE OF THEM see this as a "CURSE"!
Oh boy, must I "tell" its' reason Over and Over…to "BELIEVERS"?
"Believe" in WHAT!??? IF THEY  I N S I S T  ON  N O T BELIEVING WHAT THEY READ IN THE GOOD BOOK…then WHY claim to be a BELIEVER!
OK, I "know my place". That being to EXPLAIN what BIG BROTHER (Jesus) SHOWED…and actually TAUGHT.
Taught in a WAY that was…but was NOT TO BE COMPREHENDED by the masses in general. THAT Comprehension is NOW TO BE REVEALED "T O D A Y".
It is THE Â  Â T I M E Â  Â TO AWAKEN!
Do you recall He had to PLAINLY EXPLAIN to His DISCIPLES one (more?) of His telling(s) to the general masses? THEY DIDN'T UNDERSTAND ANY BETTER THEN THE MASSES DID!
Rather a bit frustrating to The poor Guy! sigh
OK, maybe I can help explain. Lets start Here: YOU ARE DOPES! ( :
There, I SAID IT! And probably JUST HOW HE FELT with His "followers".
He had more "politeness" then I do, I guess. POOR GUY!
Well, I "AINT" HIM!…so HANG ON, you "Believers"!
"I CAN'T SLEEP!"….NOT A "CURSE" at ALL! a GIFT! "DAD" is GIVING YOU A TIME TO BE WITH HIM! a TIME of "The PRAYER CLOSET"! ALONE, just YOU and HIM…TOGETHER! J U S T YOU TWO! NO Distractions…His PRIVATE TIME, With YOU!
USE IT! Use it as JUST THAT! HE WANTS TO START TEACHING YOU…but YOU, you "dope", see it as a "CURSE"!
"GOD is IN A LL THINGS"! THIS is a "THING"! SEE WHY IT is HIM "doing"…and SHUT UP YOUR' COMPLAINING AND LEARN, darn it!
IF you CLAIM to be "a Believer"…YOU HAD BETTER LEARN HOW TO BACK YOUR' "word" UP!!!
We call this SLEEPLESSNESS Time: "Time to / of CONTEMPLATION(ing).
LET YOUR' MIND "Wonder"….THINK of things TO Think about…things to think ON…things to think "WHY"? "WHAT"? / Etc..
Don't FORCE yourself to "contemplate" something on…ALLOW "HIM" TO CHOOSE! You will find the "things" narrow Down and Down…till ONLY ONE THING REMAINS. THAT is what "He" wants to TEACH YOU ON!
NOW do you understand WHY YOU "CAN'T SLEEP"!???
I'd consider APOLOGIZING to "Dad" for "cursing" the "CURSE".
Remember, "believer"… "PRAISE GOD IN  A L L !!!  THINGS"!!
Aho?
re
Both comments and pings are currently closed.