Filed Under :
Creator
,
Medicine Man
,
prophecy
,
Red Elk Speaks
,
Spiritual Matters
by Living Documents

May.19,2010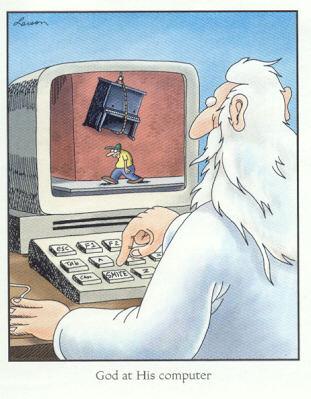 It irritates me that So MANY "Professions" know NOTHING of the SPIRITUAL Way of being OF GOD!  Instead they search for trying to PROVE that Mankind ARE GOD!
Worse yet, the EXCEEDINGLY HUGE AMOUNT of others TRYING to BELIEVE IT/Them!
Tens of MILLIONS are on that course.
Doesn't matter What 'profession'… Doctors/Scientists/etc., etc..  ALL failing to even COMPREHEND that there IS a GOD.  ONE! and ONLY One!
This is EXACTLY What has happened to ALL OTHER PLANET PEOPLE in His WHOLE CREATION!  ALL!  All but some on THIS planet.
My GOSH…the ABILITIES We have…and GOD GIVEN…but mankind "chases" after "WE are GOD"!
Scripture tells that we are "AS gOD(s)"….but NONE can BE God!  EVER!
WHY DON'T THEY Just SURRENDER…and QUIT Their STUPID, USELESS, QUEST!!! ??  YOU,  T  O  O !   sheeesshh   re
Both comments and pings are currently closed.